Welcome to our 2021 Gift Guide Collection! Over the next month we'll be dropping a new gift guide every few days so you'll never be lacking inspiration – even for the hardest to buy for!
In this edition, it's just simply Capsule's favourite things (we know we're so Oprah right now). Whether they're items we've bought this year, or things we're lusting after ourselves, we've compiled this list of amazing picks for under the Christmas tree.
Alice:
Anihana Bath Soak and Bath Bombs
We moved into a new house this year and agreed that at some point in the somewhat near future we should redo the kitchen and the bathroom. Well, strange things happen during lockdown, and one night we spontaneously bought a bath off TradeMe which is now sitting in our garage, speeding up the process (or just clogging up the garage).
Unwinding with a bath is one of my favourite treats and when I see them cheap at health food stores, I normally buy a big sack of Epsom Salts to get the most out of my soak. But, when I'm indulging in a treat – which I will definitely be doing once we've got this bath sorted – I love The Skin Kitchen's Vanilla Rose Bath Soak ($26), Lush's legendary Twilight Bath Bomb ($8.90) or Anihana's Lavender Love Bath Bomb ($7.99).
Ecovac Deebot T9+

This year I stopped living in 2021 and began living life as one of The Jetsons. He's only been in my life a week so far, but already this little robot vacuum cleaner has become a much-loved member of the family.
I cannot tell you how much joy it can bring you when it's pouring with rain outside and all you want to do is lie in bed and eat chocolate coated almonds – and then you do just that! Except, instead of feeling like a lazy sack of potatoes, you open the Ecovac app on your phone and send your little robot friend off on a mission and he vacuums your entire house – brilliantly – without you having to leave bed.

Look at everything you've achieved, while you've done nothing!! I was sceptical about whether I needed one of these in my life, but they're a game-changer. For a gadget that's not particularly big, they pack a lot of punch, doing a fab job of the carpets (even leaving those satisfying lines) AND you can put them onto mopping mode and they'll wash your hard floors while they're at it. Truly amazing.
Ecovac Deebot T9 $1399
Chuan Spa Voucher

For a few birthdays now I've given myself a present and booked in for a massage or facial at Cordis Hotel's Chuan Spa in Auckland Central – and through the course of winter, and lockdown I've daydreamed a few times about spending an afternoon here. I love giving gifts of massages here – you can make a whole day of it, using the spa facilities (which include the heated swimming pool, sauna, herbal steam room, snail shower and ice experience).

Sometimes we can get so caught up in buying items, whereas buying experiences can actually be so much more memorable and useful. Besides the spa, their high tea is out of this world, and very allergy-friendly (they hands-down have the best gluten-free scones I've ever tasted).
Chuan Spa Gift cards for Chuan Spa start at $100, High Tea vouchers start at $59.
General Sleep Socks

Apparently I have a penchant for buying ridiculously expensive socks, but in 2021 when comfort has become key, I have zero regrets. All those pretty floral dresses I own are hanging unworn in my closet and I've worn a pair of heels just once this year to a wedding. But my socks, oh my socks are getting a work out. And these beauties are my all-time favourites – General Sleep's Bed Socks, which are made from 65% Fine NZ Merino, 25% Brushtail Possum Down and 10% Mulberry Silk, and are DIVINE. They're not bulky, but snuggly and warm – and they're the only pair I've been able to actually wear to bed that don't end up coming off, getting all twisted or actually making my feet so hot I start having fever dreams and need to rip them off. These keep your feet the perfect temperature year round. They're magic.
General Sleep Bed Socks in Ink, $69



Emma:
Castle & Things Rainbow Stripe Large Knit Throw
With picnics being the entirety of my possible social calendar for the foreseeable future, I am VERY glad I purchased this razz-a-ma-tazz picnic rug last month from my favourite homewares brand, Castle & Things. It's machine washable for when you accidentally spill your babaganoush all over it (a personal story) and it's SO BRIGHT that it makes every picnic look like a party. Plus it's very soft, so it can double as a throw rug. It's happily sitting on my floral couch as we speak, perfect as a nap layer, but then it's also outside-proof. Imagine having a nap on this under a patch of shade on the beach? Heaven!
Castle & Things Rainbow stripe large knit throw, $165
Bared Footwear Aracari Bright Pink Leather High Heels
I have a love/hate relationship with heels, in that actually I hate them and love to give a feminist lecture about why they are designed to make it difficult for women to walk. On a personal level, as a tall, broad and clumsy woman, wearing high heels always made me feel like I was a teetering building balanced on sticks. Structurally unsound and potentially disastrous!

But this year I've discovered Bared Footwear, which are secretly full of all sorts of supportive shoe trickery but also don't make you feel like you're wearing something a doctor designed. I'm buying all of the brightly coloured shoes I can find and the latest pair is this hot pink leather pair. They're the only shoe brand I've ever worn that I don't need to 'break in' and now I will accept nothing less!
Bared Footwear Aracari Bright Pink Leather High Heels, $288
Billie Zinzan Zaza Dress
I stumbled across this Kiwi brand via Instagram and now this candy pink Zaza dress by Billie Zinzan is now sitting firmly on my festive wish list. Firstly, the colour. I like anything that's outrageously bright and candy pink is one of those colours that works for every occasion (maybe not a funeral) because it's a bit unexpected and a lot fun.

Secondly, it's one of those dresses that you can wear in a bunch of different styles, including back to front, plus you can interchange the sleeves (!!) It's a fashion Swiss army knife, that works for any season and situation! Billie's designs are made-to-order, so you know they'll fit perfectly (have you tried returning clothes during a lockdown? It's a journey), everything is colourful and the sizes run from 4-24. And look how happy this model is?! I love it!
Billie Zinzan Zaza dress, $355
Kelly:
De'Longhi Specialista Arte
I welcomed my new De'Longhi coffee machine just before lockdown, and I honestly can't tell you how much I adore it because it has CHANGED THE GAME. So much so, I went to get a coffee from a cafe and realised I could actually make a better one at home. Shook.
De'Longhi offer plenty of different models at different price points – so no matter if you like to steam your own milk or you prefer a fully automatic situation, you're covered. My pick is the Specialista Arte – with an inbuilt grinder that leaves literally no mess, through to the three different coffee settings, this little beauty is both simple to use, but produces a coffee that begs to be Instagrammed (and then savoured).
De'Longhi Specialista Arte, $899

Dyson Air Wrap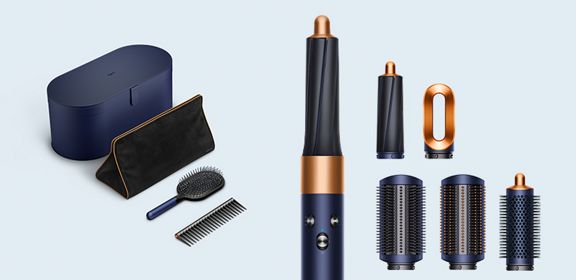 If you have someone in your life that you A) love a LOT and B) uses hair tools on a regular basis, then the Dyson Air Wrap is for them. And quite possibly you. Using the power of air rather than heat – as well as harnessing the Coanda Effect which attracts the hair to the tool's surface, leaving you with the kind of hair you only get when you walk out of a salon and before the first gust of wind gets you on the way back to the car.
The complete set comes with attachments to dry, smooth, straighten, curl and blow dry and I can't say it enough, I don't think it's healthy for me to love this as much as I do. And if I had the money, this would be what I'd want all my friends to have. After six months or so of using the Air Wrap, my hair has never been healthier – despite not being cut for months thanks to Auckland's lockdown – and I've saved so much money not buying treatments and fix-its.
Dyson Air Wrap, $849
Lodge Cast Iron Skillet
I've finally managed to get my joy of cooking back, and there's just nothing better in a kitchen to whip up a steak with a genuine cast iron skillet. They're absolutely the secret to the perfect sear on meat, but they can also be used for pretty much anything in your kitchen, from skillet cookies, crumbles, pasta dishes and even whole roast chickens.
Some people reckon cast iron skillets are high maintenance, and sure, they're not as easy as your old non-stick situations. But with just a little love and care, they'll last for generations and can be handed down.
Lodge Cast Iron Skillet 33cm, $199.95
Ferm Champagne Saucers

Better days are coming. Right? RIGHT? Well, I'd like to be prepared for when they do, or else be prepared to commiserate if they don't. I've been coveting these coupes for a while now and I'm excited for when they'll finally land on my doorstep. A perfect gift for a Champagne fan, or as a perfect edition to a chic bar cart, these gorgeous pieces of glassware will be welcome in any chic home.
Ferm Champagne Saucers, $100 for 2
Sony Turntable
Look, Spotify is the best invention since Betty White, but there's just something about listening to vinyl. If you have a music buff in your life, a record player is a fantastic idea, and a great incentive for someone to start building their own record collection.
I've been enjoying this one from Sony – it's a breeze to pair with your Bluetooth speaker, or else you can plug in a sound bar or other sound system. Sleek and minimal, it complements my furniture and decor, and offers great sound quality nad playback.
LX-310 Turntable with BLUETOOTH Connectivity, $296