Along with sharing her favourite new picks from new season collections and some of her favourite things, Kiwi fashion and interiors stylist Lulu Wilcox will be tackling some of our biggest fashion needs when we find ourselves needing that little something extra for all of life's biggest (and smallest!) situations.
From what to wear when you're meeting your future mother-in-law for the first time or what to wear for that very important third date, through to her picks for gym wear when you've just signed up to Les Mills and you didn't realise it was also a lycra-led fashion show every time you turn up to Body Balance, she's got you covered.
And if you have any particular scenario you'd like help with, feel free to email [email protected] with 'Lulu' in the subject line!
We've all been there. The pure intent of going to the gym to simply work out but when you get there you aren't only intimidated by the toned tummies and peachy butts but also the sartorial scene that is going on around you. God FORBID you wear your old band t-shirt and some sweatpants when the standard is clearly Lulus and Lornas.
Although it's important to not compare your fitness journey to someone else, that doesn't mean you can't have fun with fashion while you do it – and going to the gym is hard enough without thinking about what you're wearing! Here are my staples:
1. A good pair of leggings
When it comes to leggings there is no room for error. Lycra pants can be magical or unforgiving so making sure you have the right pair for you is crucial.
First of all, what's the intended purpose of them? An F45 squat-fest? Marathon training? Or tight but not so tight that you'll feel uncomfortable after a pancake-heavy brunch?
My personal faves are the Lotus Legging by Lorna Jane. If you haven't heard of these – go try a pair immediately! These are super comfy making them perfect for the work from home vibe as they don't sit too tight around the waist. Bonus: they give you a discount when you sign up to their newsletter – discounts for the win!
I've also been loving the Clique Classic Light Compression Tights. Not only do they look super cute with their printed waistbands but the support is awesome and my butt looks 100% every time I wear them. Better yet. These ones have a handy-dandy pocket in the side big enough to fit your phone when you're on the run.
Most importantly, both of these leggings pass the squat-test meaning they don't become sheer when stretched – showing off those cute pink undies!
2. Colourful tops
One thing I love about activewear is that it gives those who would traditionally stick to a monochrome wardrobe, a chance to experiment with colour!
I'm currently obsessed with the Elite Tanks from Cotton On Body that come in a range of colours. I personally couldn't decide between the lilac and orchid but for $24.99 I thought stuff it and bought both!
I'm loving the new collab between New Balance and Staud- and this mesh tee is the perfect way to keep it bright and light when the sun may not be shining as bright. For those less inclined to rock the crop – try pairing it with a singlet underneath.
3. Cute but practical gym bag
Going to the gym before/after work is great in theory but then you remember all the things you need to bring so your co-workers won't have to sit next to sweaty betty all day.
Unfortunately your cute handbag just doesn't have the room to carry a change of clothes, a towel, toiletries, makeup etc etc so having a gym bag is an essential.
I recently bought the Sweat Republic Sportsbag because not only am I obsessed with the pink and orange colour scheme but it's big enough to hold all my stuff when I go to the gym.
Just like a suitcase I love buying bags in colour because I instantly know it's mine instead of hunting through a sea of the black Adidas bag.
I also couldn't help myself so I bought a matching bumbag from Sweat Republic for when me and my girls go for a walk. As much as I love a roomy sports bag, I don't always need something so big so it's great to have a smaller option that I can put all my stuff in and carry without feeling like a pack horse.
4. Secure but gorgeous sports bra
Perhaps the most important element of all when it comes to activewear – the sports bra. Any woman knows what it's like when you aren't being supported – especially those who have a little more to work with!
When it comes to something so important I like to stick to the pros like Nike. The Alpha holds down those babies nice and tight without feeling comforted . It also comes in a gorgeous pale pink and lime as well as neutrals black and white.
If I'm doing something a little less intensive I do prefer to go for a more casual bra. The Dri-FIT Swoosh in floral is the perfect bra for yoga or pilates as it holds you in but still looks super cute! This is the perfect sports bra for those more confident of us who rock a bra without a shirt over too.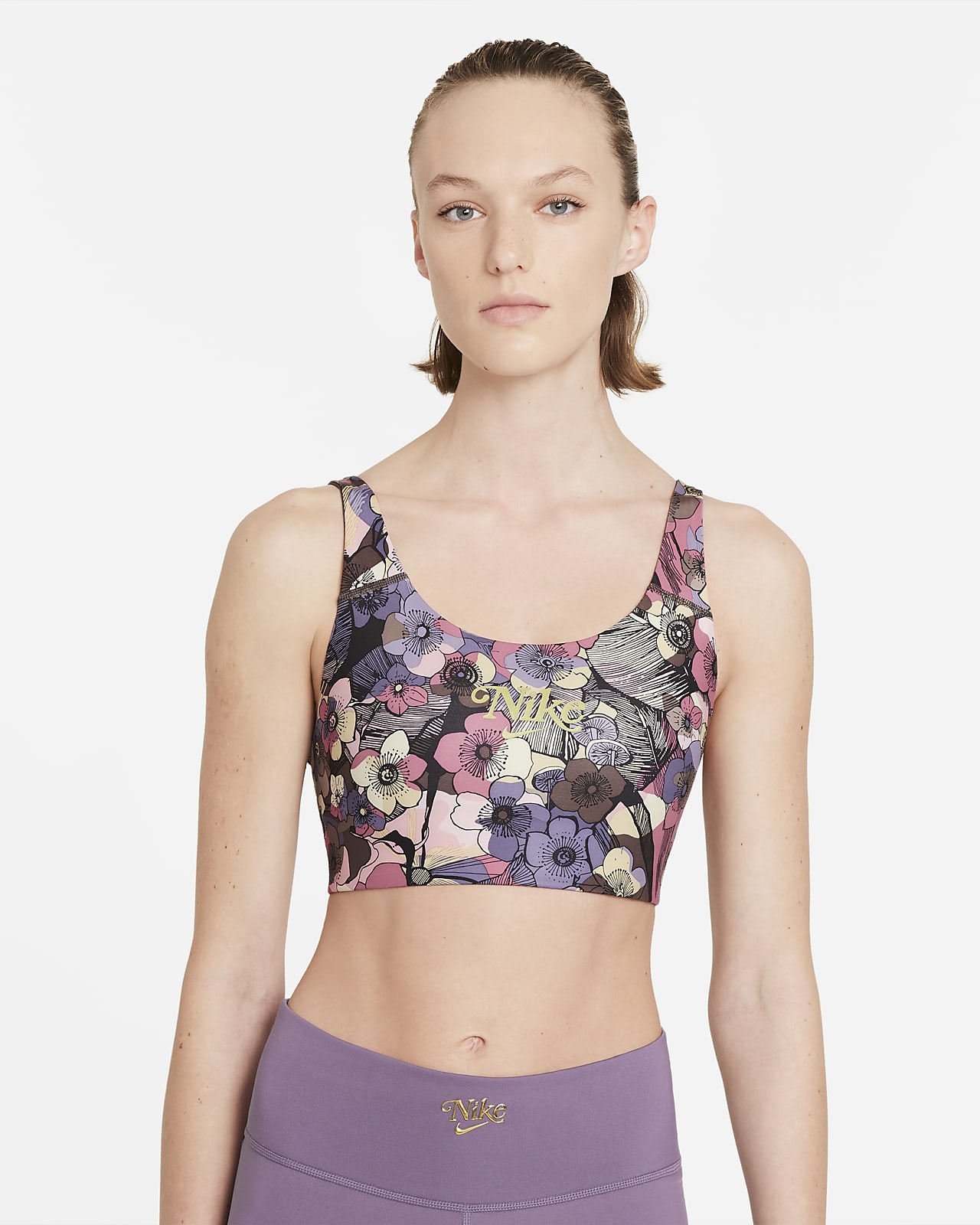 5. Something to throw over
So you've got the foundation items and a super cute bag to tote it all around in but if you are prone to feeling the cold, it would be remiss not to add an extra layer for warmth.
While you may get hot and sweaty once you start exercising you still have to get to and from the gym and if it's winter you'll be feeling the cold in a tank top!
I love to have a dedicated 'sports' jersey in my closet that I can easily throw on and take off. Clique have recently released this Limited Edition Bel Air Sweater and I have been living in mine ever since it arrived. The oversized design and 90's vibe has been generating a few envied glances and I love it.
It also pairs nicely with my New Balance Essentials Botanical Jacket for those extra chilly or wet mornings when I just need to rug up.