Capsule x Villa Maria
At a loss for your next pop culture pick? Have no idea what to watch this weekend? Have no fear – thanks to Villa Maria's glorious range of wines, we bring you the ultimate Capsule collection of the best things to see and do, and what to watch and listen to for the month of May, and with both International Sauvignon Blanc Day (May 6) and International Chardonnay Day (May 26) in the calendar, it's a great month to indulge in some of New Zealand's best drops!
As always, we've matched up this month's pop culture highlights with a wine from Villa Maria to allow you to enjoy every moment perfectly!
We're Watching… Hilarious Hits and Thought-Provoking Drama with Villa Maria Reserve Wairau Valley Sauvignon Blanc – especially on International Sauvignon Blanc Day! (6 May)
Anatomy of a Scandal
(Netflix)
It's not an easy watch, but the limited series Anatomy of a Scandal is definitely creating a lot of conversations with its content about the grey areas of consent – and how different generations of women have been expected to 'put up' with a lot of trauma because of it. Parliamentary minister James Whitehouse is an up-and-coming UK politician, who just happens to be best buds with the Prime Minister, living a deeply privileged life with his perfect, rich family. But his ambitious ladder-climbing comes to an abrupt halt when he is accused of rape by his employee, who he's been having a five-month affair with. Sienna Miller plays his wife, Sophie, suddenly realising the extent of their rich-person luck and that it has its limits, and Michelle Dockery plays the lawyer determined to bring James to justice. Based on the best-selling book, the series really highlights the female experience of consent and how quickly things can get out of control.
Nailed It
(Netflix)
The other day, my mum asked me for non-dark things to watch on television and as I rattled through the list of what we were currently watching, I realised absolutely none of them counted as light-hearted. So then I went back to my fall-back suggestion: Nailed It. When it comes to what to watch, it's a reality cooking show but don't let that put you off – this isn't a stressful MasterChef or a nerve-wracking Kitchen Nightmares, it's absolutely amateur bakers attempting to recreate designer cakes and desserts. Boy, are they bad at it but boy, are they having the times of their lives – the PERFECT show to grab a deliciously chilled glass of Villa Maria Reserve Sauvignon Blanc, with rich and juicy tropical fruit flavours, and settle in for something that'll make you think there are still good people in the world, even if they can't bake.
The show is INCREDIBLY low stakes – no-one gets voted off and the baker that's struggling the most gets given the most help. It's very kind but also extremely funny, thanks almost entirely to host Nicole Byers, a comedian and human ray of sunshine. There are fun challenges! Hilarious guest hosts! Ridiculous cakes! Everybody has a good time, and no-one cries. Also, you will learn a lot about how to bake, like to always grease your pans and how not to start a small fire in your microwave, which several contestants do.
Evil
(TVNZ)
On the absolute other end of the spectrum of what to watch is Evil, a supernatural series about a psychologist who reluctantly joins Catholic priest in training and an IT-savvy cynic to help them prove/disprove whether or not seemingly other-worldly events have a reasonable explanation. Basically, are miracles/ghosts/demons real, or not? It's a little bit Lost, a little bit Buffy, The Vampire Slayer, a little bit Law & Order and it's also tremendous fun. Also, it has a hot priest and frankly, what's not to love there. Evil was created by the genius team behind The Good Wife and The Good Fight and it's veeeery funny, scary and occasionally gruesome.
We're Reading…. A Suspenseful Thriller That'll Have You on the Edge of Your Seat with Villa Maria EarthGarden Chardonnay
Falling by TJ Newman
This book came into my life last week and has replaced Room by Emma Donoghue as the fastest read of my life. The brief version is this: Pilot Bill Hoffman is flying one of his normal routes – LA to New York – as a favour to a colleague but this commercial flight is different. The morning of the flight, his family are kidnapped and he's told that if he doesn't crash the plane (himself and 140 passengers included), than his family will be killed.
This novel is written by a former flight attendant and the plot moves at full speed ahead right from the beginning – it's got some Lee Child vibes (but with more relatable female characters and less grotesque violence). You will rip through it – it's one of the books that every adult will enjoy (as long as they don't have a plane ride coming up anytime soon). Put aside a couple of hours, grab a glass of the Villa Maria EarthGarden Chardonnay – think ripe stone fruit and subtle toastiness with a hint of baking spice – just for you and feel yourself taken on a journey that twists and turns with every page, and truly enjoy a little escapism.
We're Listening To… Judgement and Juicy Jibes for Sex and the City fans, with Villa Maria Cellar Selection Syrah
Sentimental in the City: And Just Like That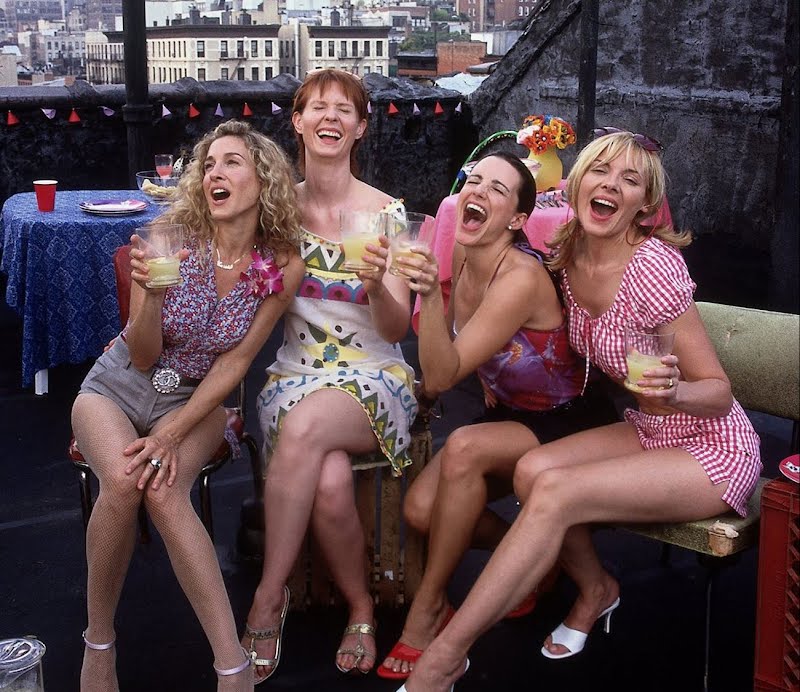 As the weather gets cooler, is there anything better than grabbing a cosy blanket, some headphones and a good pour of Syrah and listening to a meaty podcast? Well, we think this delicious red full of dark fruit is the perfect accompaniment.
We have already waxed lyrical about our love for the original Sentimental In The City podcast, where journalists/writers Dolly Alderton and Caroline O'Donoghue went through every season of the original Sex and the City series and treated them as 'the great American novel as they are'.
Well, the ladies are back to discuss the frustrating/satisfying SATC reboot And Just Like That… and it's fair to say there's more mixed feelings, but it's still a HUGELY entertaining to hear these two talented writers and die-hard fans wax lyrical for about four hours about the reboot, their thoughts on Che (very positive), their thoughts on Miranda's hair (deeply negative) and what they would have liked to see happen, including Dolly's Steve-centred spin-off called Steve and The City. (Justice for Steve!) An utter delight.
We're Doing… A Blitz of Colour
City of Colour
City of Colour, a dazzling display of light and art installations, is set to illuminate the city centre this May thanks to Heart of the City, Auckland Council, and a number of city centre partners. The stunning trail of more than 50 installations, lighting and artworks, co-curated by Angus Muir and Auckland Council's Barbara Holloway, City of Colour will illuminate the city from Quay Street to Karangahape Road.
A large-scale visual feast in Tāmaki Makaurau, City of Colour will see city landmarks and buildings light up in celebration – from the SkyTower, The Civic, Vector Lights on the Harbour Bridge, PWC Tower, and the Auckland Town Hall, to Te Ara I Whiti /The Lightpath.
The art and light festival is also timed with Cheap and Cheerful Eats, which offers bargain bites and delicious deals across the city all month – giving all the more reason to visit the heart of the city in May.
Check out our previous match ups here – with more picks on what to watch, listen to, read and do!