Capsule x Villa Maria
At a loss for your next pop culture pick? Have no fear – thanks to Villa Maria's glorious range of wines, we bring you the ultimate Capsule collection of the best things to see, do, what to watch and listen to for the month of April.
We've matched up this month's pop culture highlights with a wine from Villa Maria to allow you to enjoy every moment perfectly!
We're Watching… New Hits and Old Favourites with Villa Maria's Cellar Selection Merlot Cabernet Sauvignon
Abbott Elementary (Disney Plus)
I come from a family where the previous nine generations were teachers (not an exaggeration) and nothing has made me dust off my dream of retraining as a primary school teacher than this delightful show about a group of teachers at a low decile school in America. Shot in the mockumentary style like Parks & Recreation and The Office, the staff at Abbott Elementary are equal parts enthusiastic as they are exhausted from their jobs. Written and created by comedian Quinta Brunson, Quinta says it was inspired by her real-life teachers that made her believe anything was possible.
It certainly isn't a corny cheese-fest of a series; it has the same great humour that made Parks & Recreation such a funny show and the best character is the absolute flake of a principal who has zeeeero interest in the children and is all about improving her personal brand. Plus, there's a love story. A delight!
Killing Eve (TVNZ)
This show has been out for many years but the final season has just started screening on TVNZ On Demand and there really is no greater role-call of female characters than this darling, darkly funny series – perfect for pairing with a Merlot Cabernet Sauvignon – it's a full-bodied wee number with strong blackcurrant, plum and red berry flavours that's perfect for the turning autumn weather.
Sandra Oh is Eve, the MI6 agent gone rogue, still in a sexy cat-and-mouse, frenemy/lover/actual enemy relationship with assassin Villanelle (Jodie Comer). Now there's a new murderous woman on the scene who Eve is now also kind of dating, kind of hating (sexy AND confusing).
But the real VIP is Carolyn, the spy master, who is one of the best characters to ever feature in the spy genre. If you were to combine the ice-cool-under-pressure repartee of James Bond, mixed with a dash of M, and with the great detective wardrobe of Gillian Anderson in The Fall, and the humour of Fleabag. And she's in her mid 60s. Will Eve and Villanelle finally shack up, leave the killing behind and move to a villa in Italy to start their love story in the style it deserves, as I am hoping? Or will they aim for mutually assured destruction instead. We'll finally know.
Grand Crew (Coming to Neon)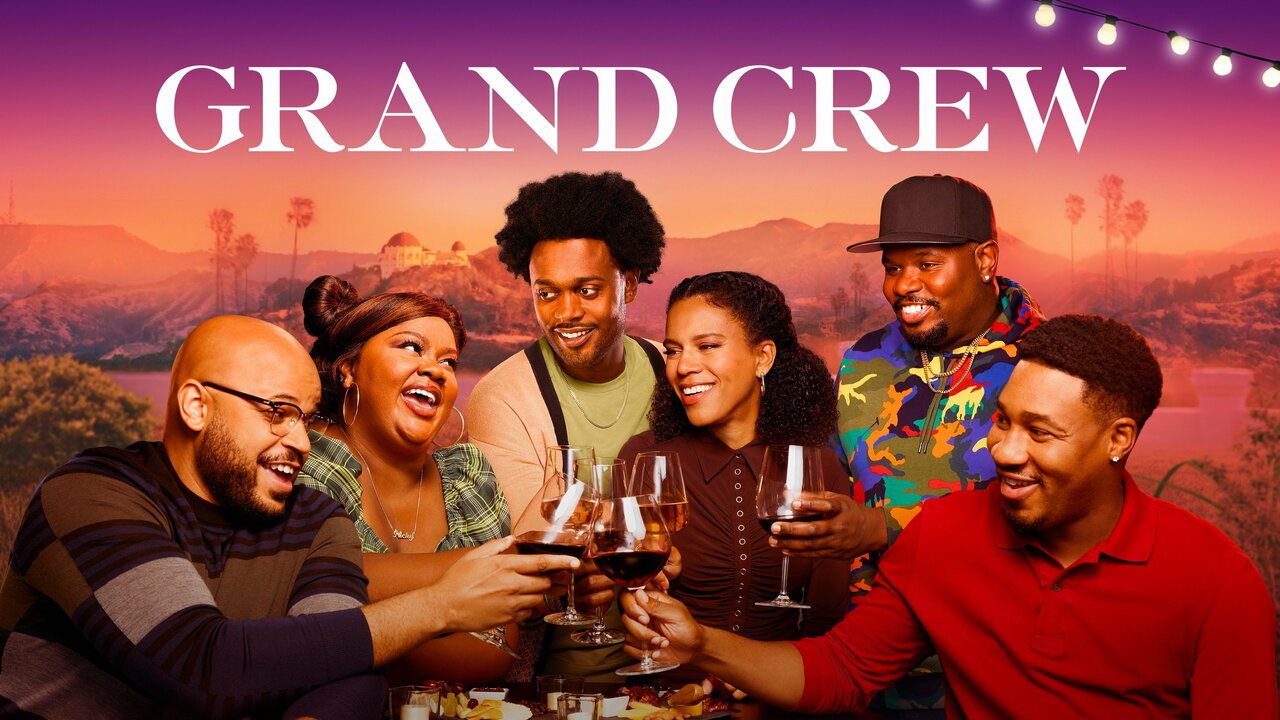 From the creators of Brooklyn Nine-Nine (that gives you a pretty good idea of what you're in for) and headed up by B99 alum and Nailed It host Nicole Byer, Grand Crew is a new comedy that life is better with your crew.
This group of young professionals are all trying to navigate the ups and downs of life and love in Los Angeles – and they always find time to gather at their favourite bar to "wine down" and unpack it all.
If you're thinking this sounds like Friends had a baby with How I Met Your Mother, you're on the right track – but for this day and age. This one is available from Tuesday April 19 (we've seen a cheeky few episodes already and you're in for a TREAT – get the girls and some glasses of this silky drop together and you've got the perfect night in.
With Villa Maria EarthGarden Rosé We're Doing…
Combining two things we love – paint and wine, these creative experiences are available around the country with different themed nights. After dark, where you paint under neon lights. Paint your pet, where you recreate your favourite photo of your favourite pet. Dragvine, where drag personalities Kita Mean and Anita Wiglet walk you through the painting process. There are events right around the country and even a series of free online classes you can do at home, where you bring your own paint and wine. The wine we reckon would really get the creative juices flowing? A refreshing Rosé bursting with flavour of course!
We're Reading… Relationship Advice with Villa Maria Reserve Hawke's Bay Chardonnay
The Good Partner (HarperCollins, $37.99)
A modern approach to relationships for all stages of life, both for those in relationships and those thinking they'd like to be in one. Author Karen Nimmo focuses in on the individual not the couple – it's about figuring out who you are – or become – when you're in a relationship. It's about knowing your strengths, triggers, reactions and vulnerabilities. It's about having tools you can use to cope with challenges, iron out your difficulties and work towards being content and at ease in your relationships, your own unique version of a Good Partner.
Grab a glass of Villa Maria's Reserve Chardonnay – a delightfully juicy, not-too-oaky but still oaky chard that's fresh and flavourful, which forms its own refined partnership between style and length, kick back and prepared to be amazed!
Sign us up!
We're Listening To… Kiwi Podcasts with Villa Maria EarthGarden Pinot Noir
Full disclosure, this podcast happens to include three of our favourite people BUT you simply must listen to the new show from the Brodie Kane media network, Out the Gayte.
Hosted by Breakfast presenter Matty McLean, PR guru Chris Henry and NZ Falcons President Brad Christensen, Out the Gayte is an LGBTQ lensed-podcast that offers a no-holds-barred discussion about life's biggest and smallest issues. From rugby chat through to Matty's upcoming wedding plans, the podcast isn't afraid to get intimate – but you'll also have more than a LOL or two as the three expertly weave between topics.
With everything going on in the world at the moment sometimes it feels a little silly to care about things that aren't to do with Covid, impending World War 3 or the RIDICULOUS cost of living.
But there's very much still room (and a huge need) to have the lighter things in life, which is where new podcast Shallow comes in.
A trans-Tasman affair hosted by Elle Kurtis and Beccy Churchill, Shallow is about all the things in the shallow end of life – the things you want to chat to your girlfriends about. Silly but still smart, the two talk about the things they're loving each week in the hope to make other people's weeks a bit brighter and lighter given all the things we have being thrown at us in the news, at work, and in life right now.
And while Villa Maria's EarthGarden Pinot Noir is anything but shallow – think a huge burst of earthy, dark and brooding flavours – it's still the perfect drop to sit back, relax and have a little bit of me-time with as you enjoy a few laughs.