Welcome to Capsule's book club! We're SO excited to bring you a new book each month to devour and savour. Whether you indulge in a few hours of luxurious alone time each Sunday, or finish your day with a chapter or two, we invite you to relax and enjoy, and if you're so inclined, connect with fellow Capsule readers and your own family and friends to have a yarn about the book you've just read. We'll be mixing up the titles we feature every month, so you're in for an eclectic monthly journey.
This month, we're diving into a mystery with a twist it that you won't want to put down! And if you need any more reading recommendations, click here for our previous book club instalments!
Capsule x HarperCollins
"I am your maid. I know so much about you. Your secrets. Your dirty laundry. But what do you know about me?"
I think I've spent far too much time thinking about what hotel staff must see. The disregard for decorum, the disgusting mess they must see day in and day out as we, the guests, drop our inhibitions and indulge in almost consequence-free freedom for a night or two (God, sign me up for a staycation STAT).
But these thoughts are also why I'll always refuse to leave a hotel room a mess – I mean, at the very least I'll pile all the dirty towels into one heap and chuck the teabag wrappers in the bin – but can you IMAGINE the state of affairs some gross humans must leave?
Hotels also intrigue me – by nature they're glamorous, they're opulent, they're hedonistic. So when you combine a posh five-star hotel with a twisty, turny mystery with a hotel maid in the middle, I am IN – enter The Maid, by Nina Prose
Our protagonist, Molly, is a 25-year-old maid at the Regency Grand Hotel and let me tell you, she LOVES her job.
Cleaning is her calling and she takes great pride in her job. She adores her crisp, clean maid's uniform and one of her favourite parts of her job is restocking her maid's trolley with military precision.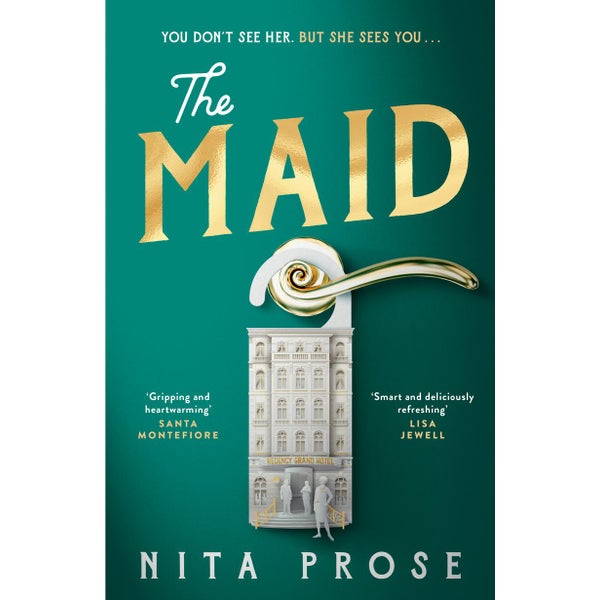 Molly is neurodivergent, and sometimes she gets confused at the pace and tone of the world around her. She doesn't understand all that she sees, and it's only because of her beloved Gran, who has just passed away, that she knows that a smile doesn't necessarily mean happiness. While she can't quite identify social cues, and she's subjected to cruelty at work – her boss even steals her tips – Molly carries on with the one thing that brings order to her chaotic world – returning guests' hotel rooms to a '"state of perfection".
Molly loves being invisible, which makes her the perfect hotel maid – she notices everything, while no one notices her. But fate, unfortunately, does notice her. On her normal cleaning rounds, it's Molly who stumbles across the dead body of Charles Black, one of the hotel's best and most notable guests, in his bed.
Very quickly Molly is deemed suspect number one, and it takes the few good people in her life banding together to try and clear her name, while navigating other people's thoughts, feelings and motives.
This debut novel from Nita Prose is charming, riveting and at times heartbreaking as you watch from the sidelines as Molly tries to figure a way out the mess she's found herself in – and she hates mess.
Stories about 'the help' in hotels aren't original – but a character like Molly refreshes the plot and makes you think about the world from a different, more challenging lens. Think Eleanor Oliphant, but just a little softer.
Playing with both dark comedy and intriguing mystery, and dabbling in the themes of loss, love, difference, family and invisibility, the feelings Molly has are relatable and raw, especially as she frequently recalls her Gran's gems of wisdom to help her through the tough time she's facing (and the many references to Columbo, the detective show they loved to watch together.)
"The more you live, the more you learn. People are a mystery that can never be solved. Everything will be ok in the end, and if it's not ok, then it's not the end."
I mean, the woman has some POINTS.
This is the perfect book for a lazy Sunday afternoon with a beverage in hand when you want to escape from your world and dive head first into someone else's. There's a few laughs as well as a few moments where I just wanted to cry out and help Molly – but you'll find with the twist at the end that Molly is no fool.
The Maid, HarperCollins, $32.99
If you liked The Maid, you might like:
From left to right: Em & Me, The Heretic, Cleopatra & Frankenstein