Capsule's collection of the best of new products in fashion, beauty, food and lifestyle that are hitting shelves this month – you're welcome! This month, it's Mother's Day gifts – but let's be honest, you'll treat yourself too!
Abel Parfum Extrait Collection
For the person who adores scent, this gorgeous new perfume collection is a must if you're looking for fragrance that's 100% natural but smells like you've spent megabucks on a fancy perfume.
Abel, a Wellington-based fragrance house, have released a new way to wear perfume with their gorgeous highly-concentrated parfum bottles that are small – but pack a massive punch.
The new Parfum Extrait line is rich in therapeutic-grade essential oils, designed to be dabbed on pulse points for a restorative scent experience. With Pink Iris for calm, Green Cedar for vitality, Cobalt Amber for comfort, White Vetiver for energy, Cyan Nori for joy, Golden Neroli for balance and Green Labdanum for strength, there's a scent for whatever you (or your mum) needs right now.
$75
Glasshouse Gardenia Inoubliable and Velvet Rhapsody
Whether you have a minimalist mum or one who loves all things cosy, we have the perfect scent for her!
An exclusive limited-edition fragrance, in Gardenia Inoubliable you've followed a magnetic trail of scent, deep into an overgrown garden of dewy greens. There glows the noble white Gardenia. An unmistakable homage, embraced by the exquisite, unforgettable, rich and sensual floral aroma – the perfect Mother's Day gift for someone with more of a luxurious and minimalist style, the frosted vase features delicate Gardenia designs, matching the elegant white and gold box.
If your mum prefers something a little more intense, Velvet Rhapsody is a contemporary alternative to the time-honoured tradition of gifting bouquets of flowers, and comes in a gorgeous limited-edition vessel that's sure to take pride of place on the coffee table. When it comes to Mother's Day gifts, you just can't go wrong with a candle!
From $59.99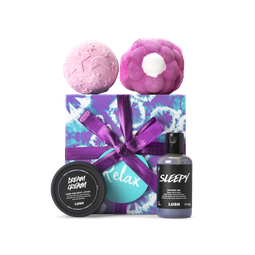 All any mum wants to do is have some 'me time', right? Help her out with this gorgeous pack from Lush that features four gorgeous products that'll help her chill out at the end of the day, The set includes:
Dream Cream Self Preserving Body Lotion 45g
Sleepy Shower Gel 100g
Twilight Bath Bomb 200g
The Comforter Bath Bomb 190g
$48
Introducing Cinco Sangria Rum, a small batch collaboration between Honest and natural wine brand Unkel.

Cinco Sangria Rum is the blend of Honest's acclaimed white rum with Unkel's fruity organic Nelson Pinot Noir, and NZ grown oranges, cherries and apples. The amalgamation results in a medium-bodied rum with aromas of orange peel and apple, partnered by big bursts of flavour from cherries and oranges, finished lightly with a hint of dark chocolate. It's the perfect base for a jug of Sangria to toast farewell to summer. Equally, this delightful drink will warm the soul when being sipped on its own.
$89.99
Phillips Hue White and Colour Ambience Starter Kit
As we continue to become more connected, smart home devices grow in popularity and scope, like the Philips Hue, a robust, complete smart lighting system. Philips Hue provides interconnected lighting solutions for your smart home system. Through its bulbs' abilities to shift in colour and light, you can customise your indoor and outdoor areas for different situations using the sleek app, schedule lighting for different times of day, and even have them turn on as you enter the home.
The bulbs can run directly through bluetooth and wireless networks, but for the true home experience, you need a Hue Bridge – a modem that runs and manages your bulbs, while linking them to your existing smart home networks – including your smart speakers, smart TVs, and even your music streaming service. The kit includes three colour smart bulbs and a Hue Bridge, which provides full control of the lights, access to the Hue app, and endless features.
$329.95
Mixing utility and practicality with glamour, the new limited edition BLUNT x Karen Walker Polka Dot umbrella nails the brief perfectly!
Pairing a moody forest green with a flash of intense sunshine yellow, this gorgeous new umbrella also features the iconic KW Runaway Girl stamp, sure to help break the clouds open this season. Comes with a matching coloured sleeve.
$139
Inspired by nature in one of the brand's most-loved design, Jolie sleepwear features beautiful hydrangea blooms in deeper, moody tones.
Made from supremely soft plant-based modal in versatile mix and match separates, Jolie is perfect for every sleeping style and beautiful for gifting. The Jolie Robe has long sleeves, a matching belt with belt loops and piping trim detail.
$99.90
Bellabeat Ivy – Blush/Rose Gold
The Bellabeat Ivy is a one-of-a-kind health and wellness tracker created for women, by women. Designed as an elegant bracelet that monitors your biometric data, and physical and mental activity, Ivy knows what you need to do to level-up your self-care routines and reach peak performance. Ivy is also available in BLUSH | Silver and GARDEN | Rose Gold and Jet Black.
Benefits include:
– Optimised for women's health
– Calculates Wellness and Readiness score
– Monitors heart rate, cardiac coherence, respiratory rate, activity, and sleep
– Tracks menstrual cycle, meditation, and hydration
– Gives insights into your health and lifestyle with guidance on how to improve them
– No screens or buttons
– Lightweight, safe for skin, and hypoallergenic.
$405
Elizabeth Arden Ceramide Lift & Firm Set
If you're looking for a new skincare routine that actually does what it says on the bottle and doesn't just soothe your physical anxiety, but also gives you a little everyday luxury (and looks good on the bathroom shelf!), give the Advanced Ceramide range a crack, and treat yourself!
Discover Elizabeth Arden's Ceramide Lift & Firm Set: The set includes an Advanced Ceramide Lift & Firm Day Cream 50ml, an Advanced Ceramide Lift & Firm Night Cream 15ml, and an Advanced Ceramide Capsules 14pc.
And check out our review of the range here!
$158
Dyson Supersonic Hair Dryer Gift Set
The Dyson Supersonic hair dryer is back for Mother's Day in a new fuchsia/nickel colourway that mum will love! Engineered to suit all hair types, the Supersonic hair dryer uses focused airflow technology for fast and easy drying. The set includes the new ingenious Flyaway attachment which works to smooth down pesky fly aways in one swoop- great for new mums postpartum hair loss. When purchased online, the gift set comes with the Dyson designed paddle brush and detangling comb for easy combing through wet or dry hair.
$649
Circa White Lavender and Sage & Cotton Flower and Freesia Liquid-less Diffuser Set
Fill your home with beautiful fragrance with our Liquidless Diffuser. Using innovative dry diffusion technology, each individual Scent Stem is infused with inviting fragrance, so you can mix and match to create your own unique blend.

This duo set includes a ceramic holder plus two Scent Stem fragrances that use innovative dry diffusion technology: White Lavender & Sage and Cotton Flower & Freesia. The no liquid holder means it's great for mums who already have small children who love to knock things over!
$39.95