Welcome to our 2021 Gift Guide Collection! Over the next month we'll be dropping a new gift guide every few days so you'll never be lacking inspiration – even for the hardest to buy for!
In this edition, it's the present list for the friend who always looks like she has an in-built ring light, their glow is so intense. They know the latest beauty and style trends and they're a walking encyclopedia of product recommendations.
Mecca Cosmetica Mask Library
God, everyone deserves a little bit of TLC after the nightmare of this year, and I honestly can't think of a nicer gift than Mecca's mask library. Featuring their gorgeous packaging with artwork designed by Australian indigenous artist Naomi Hobson, you won't even want to wrap this stunning box – and that's even before you get to what's inside.
With three of Mecca's bestselling masks – Fresh Faced, Lit from Within and the Bright Eyed eye mask, you'll be gifting your beloved the gift of self-care, as well as a glowing mug even if the festive prosecco has been downed at a rate of knots.
Mecca Cosmetica Mask Library, $39
Murad Limited Edition Holiday Gift Sets
When it comes to skincare you can trust (and results that will win you compliments) it's hard to go past Murad. Their range of science-backed professional skin care is exquisite and it's what the skin professionals at Caci use.
For someone who loves her (or his!) beauty products, you can't really go wrong with one of their cute holiday gift sets and there's loads to choose from at different price points.
There's the 'Glow Anywhere with Murad' set – a two-piece Vitamin-C powered set containing Essential-C Cleanser (60ml) and Vita-C Glycolic Brightening Serum (10ml), that costs $49 (valued at $84.50).
From there, there's plenty more to choose from, going up to the 'Radiance Revealed with Murad set, which sells for $329, but is valued at a whopping $512. It contains four of Murad's best-selling products, all in full size. All sets are available online from Murad or Caci.
Murad Limited Edition Holiday Gift Sets, from $49
Antipodes Glow Ritual Vitamin C Serum
You would be hard pressed to get a more beautiful or hard-working serum for this price point and the fact that this shimmering product sold out online across the UK, the US and France in just three days is testament to how bloody good it is. Firstly, it looks like you are applying pure magic dust to your face, because this glowy serum is literally tinted gold.
Are you a Greek fertility goddess, emerging from a pool of golden elixir or are you just a sleep deprived 30-something, trying to make your face less lockdown grey? It's hard to say when you apply this product, because it is so dreamy to use.
Techical details – this ultra-clean, 100% natural origin formula combines natural forms of Vitamin C and retinol alternative bakuchiol to plump your skin and add some serious glow factor to your face. It's amazing under moisturiser but also is a stunning pre make-up layer as well for light-bulb bright skin. We've used serums that are worth – literally – four times this price and haven't had the same results. This is a homegrown dream girl of a product.
Antipodes Glow Ritual Vitamin C Serum With Plant Hyaluronic Acid 30ml, $50
C&M X Superette Huntington 2.0 Tee
Ah, how good is it when two iconic brands come together.
Available in Pink Lemonade or the pictured Sour Apple, these cute tees are the perfect additions to anyone's wardrobe – practical, easy but fun, they'll elevate any look.
Camilla and Marc are bloody iconic, so get your hands on this special collaboration while you can.
I mean, for a gift. Ah stuff it, just buy it for yourself.
C&M X Superette Huntington 2.0 Tee, $139.00
Witchery Leon Woven Clutch
I don't know about you but I plan on EMBRACING everything about summer this year because why the hell not, and that also extends to my accessories.
A perfect present, this woven clutch from Witchery exudes beaches, bathing suits and a bloody good time.
Combine with a chic bathing suit, a strappy pair of sandals, a floppy hat and a sunny disposition and you (or your lucky recipient) will be the very essence of summer. Luckily, all of those other things are also available at Witchery. Handy.
Witchery Leon Woven Clutch, $139.90
Hark & Zander HempPurify Emulsifying Oil Cleanser
Oil cleansers are some of the gentlest and most soothing ways to cleanse your skin and this NZ-made product combines organically grown hempseed oil with Kawakawa, Rosemary and Lavender.
Oil cleansers are amazing for a first cleanse to remove make-up but a lot of them can be a bit stingy around the eyes – this product is the first one that is completely gentle and doesn't react at all, but still manages to remove every scrap of eye make-up. A great Kiwi brand with a great behind-the-scenes story.
Hark & Zander HempPurify Emulsifying Oil Cleanser, $89
Estēe Lauder Eye Sweets
Estēe Lauder does one of the best waterproof eyeliners in the business – perfect as we head towards the possibility of summer weddings (and just feeling the feels getting to see everyone again!).
This cute little candy box is an absolute steal, containing not just the infamous Double Wear Infinite Waterproof Eyeliner, but two of them (in Kohl Noir and Espresso) PLUS a full-size Sumptuous Extreme Lash Multiplying Volume Mascara in Extreme Black and a full-size Brow Now Stay-in-Place Brow Gel in Clear.
It's everything they'll need for dramatic lashes, defined eyes and brows – and it all comes in a beautiful gift-box. I'd get in quick though, because if bought alone the products would cost $254, whereas you can pick up this set for $95!
Pure Self-Tanning Drops

As we head into this particular summer/festive season, I (Emma) would describe my skin-tone as Phantom of the Opera-esque, in that I mainly leave the house after dark and when I do, I'm wearing a mask. (I also love to haunt opera houses). These Bondi Sands gradual fake-tanning drops are a game changer for pale people who are also terrible at using fake tan (me). You add between 4-12 drops to your regular morning moisturiser/sunscreen and after a day or so, you'll start to look a bit more alive.
The formula is effective enough to see a difference but gentle enough for sensitive skin and I find that after a couple of days of using this product, I can skip make-up. This is a great gift for someone who is intimidated by face fake tan going wrong (a legitimate fear) but wants to look like a sun-kissed goddess.
Self-Tanning Drops by Bondi Sands, $26.99
Skinsmiths At Home Facial Kit: Get Glowing!
There's nothing quite like the pick-me-up of a facial – and thankfully, with this smart gift-box you don't even need to leave your home to have the same luxury experience (perfect if your pal or loved one is stuck at home, or for those moments when you just need some serious self-care, stat!!)
This gift box contains everything you need for a luxurious facial (just add candles, music and water!). You'll be left with bright and glowing skin thanks to the combination of Hyaluronic Acid and skin-loving, pigmentation fighting, antioxidant – Vitamin C.
Featuring a Cream Cleanser, Hydration Booster, Vitamin C Booster, Hydrating Moisturiser, Cleansing Cloths and a step by step instruction guide, it's valued at $263 but you can pick it up for a festive $159 right now!
Skinsmiths At Home Facial Kit: Get Glowing!, $159
Charlotte Tilbury Luxury Palette of Pearls
When Charlotte Tilbury finally arrived in Aotearoa after many years of buying the brand online, it was like an early Christmas (even if it happened during lockdown, when none of us could get to it. Sigh). Now you can deliver an on-time Christmas to your beauty-full loved one with this limited edition FESTIVE EYESHADOW (capitals courtesy of Capsule, not Charlotte).
For those obsessed with beauty, Charlotte Tilbury's exquisite make-up products are basically folklore in their appeal, as is the woman herself (she did Amal Clooney's wedding make-up! For crying out loud!). This palette has four colours, designed to be worn together but that can also shine as solo stars: a mother of pearl-pink, pearlescent gold, blush pink and rose gold. They are universally flattering, they don't crease and they have the perfect level of shimmer so that they catch the light but don't make it look like you've dipped into ***glitter eyeshadow*** territory. A truly sublime gift, plus it comes in a star-covered container. So festive.
Charlotte Tilbury Luxury Palette of Pearls, $91
Elizabeth Arden Eight Hours, Four Ways Gift Set
I mean, Elizabeth Arden's Eight Hour Cream is classic for a reason – the iconic product has been a mainstay of our beauty cabinets for decades, and it's not going anywhere anytime soon.
This gorgeous set, complete with a chic red envelope gift bag, contains an Eight Hour Cream All-Over Miracle Oil 30ml, an Eight Hour Cream Lip Protectant Stick SPF15 3.7g, an Eight Hour Cream Intensive Moisturizing Hand Treatment 30ml, and an Eight Hour Cream Skin Protectant Original 50ml.
If you have a beauty-obsessed person in your life and you don't know what to get them – this ticks the box.
Elizabeth Arden Eight Hours, Four Ways Gift Set $83
Boh Runga Marigold Bracelet 14CT Gold Plated
I've been a big fan of Boh Runga and her jewellery for years (also check out her Small But Perfectly Formed range – her Southern Cross ring was my absolute favourite piece of jewellery until I took it off one day and a dog ate it, true story).
This bracelet is part of her collaboration with Anika Moa and features a stunning marigold relief, and is designed to be worn both on its own or in combination with the collection's signature piece, the Marigold Locket.
It's a beautiful piece of jewellery that adds a little bit of glamour to the everyday.
Dermalogica Holiday Edition – Hydration Heroes
We're huge fans of Dermalogica in these parts – but we think their latest holiday collection is their best giving yet!
This ultra-hydrating trio takes skin from parched to luminous in three steps – perfect for a summer out in the elements. The gorgeous set includes a Hydro Masque Exfoliant (50 mL), a Multi-Active Toner (50 mL) and the WONDERFUL Skin Smoothing Cream (50 mL). Plus, $1 of this and all Holiday sets is donated to Women's Refuge to provide 'Safe Nights' in.
Dermalogica Holiday Edition – Hydration Heroes, $149
By Charlotte x Superette My Dreams are Limitless Necklace
Perfect for the person who is wanting to dream big in 2022 (read: use a passport).
A collaboration between By Charlotte and Superette, and only available at the latter, this beautiful necklace is great for everyday and reminds you every-time you look at it that the world really is your oyster.
It's available in gold plate and sterling silver, too – and make sure you check out the matching earrings as well (as well as Capsule's personal favourites, the gorgeous Heavenly Star hoops).
By Charlotte x Superette My Dreams are Limitless Necklace $189
The Mentor Aesop Seasonal Gift Set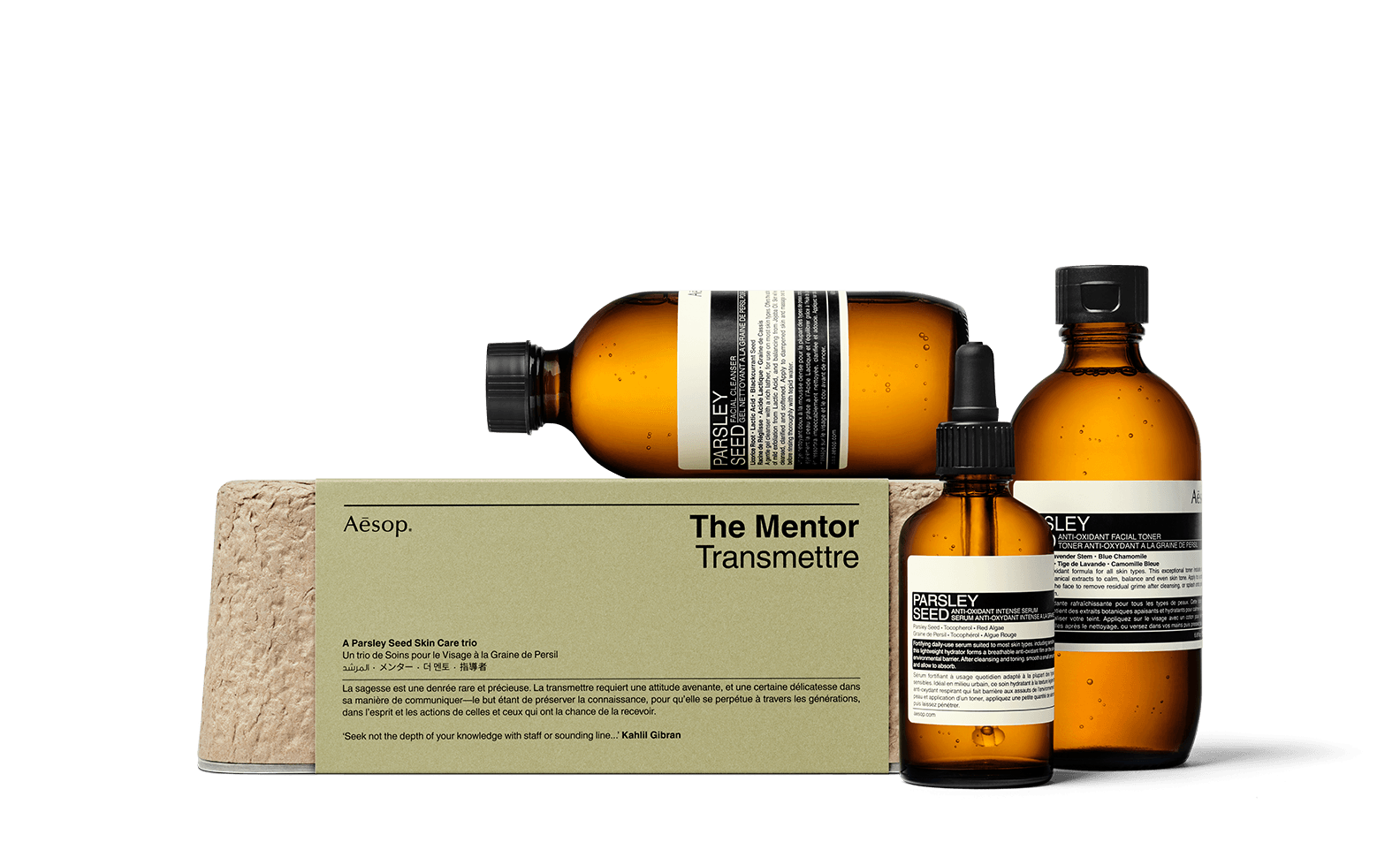 A triptych of anti-oxidant-rich formulations for impeccable cleansing, toning and hydration, The Mentor has been collated to deliver fortifying, supportive skin care for urban dwellers.
It is one of five seasonal assortments that make up 'Anatomy of Generosity', Aesop's 2021 collection of Gift Kits, designed to honour and encourage everyday acts of kindness. The persona of each kit has been tied to one of five registered charity groups. The Aesop Foundation—the brand's now global charitable platform—has donated AUD $100,000 to each of these organisations, regardless of sales. In turn, each kit also serves as a token of recognition for the recipient, representing the values they embody for the giver.
The set includes Parsley Seed Facial Cleanser 200 mL, Parsley Seed Anti-Oxidant Facial Toner 200 mL and Parsley Seed Anti-Oxidant Intense Serum 60 mL.