Any excuse, right?! It's International Pinot Noir Day so we are planning on hunkering down tonight, popping open a bottle and enjoying with our friends and family!
Our pals at Villa Maria are, funnily enough, on board with one of the most delicious days of the year – so here's three recipes they've created to go *perfectly* with your favourite pinot!
Capsule x Villa Maria
Celebrate International Pinot Noir Day on Aug 18 with delicious food-and-wine matches.
Pinot noir is considered one of the most versatile wines to match with food – with its light body and subtle flavours, pinot can bring out the nuances of complex ingredients. 
Lamb is an absolute classic – it's a rich and succulent meat that is perfectly balanced by the acidity, silky tannins and spicy hints of "new world" (New Zealand!) pinot. 
Pinot's subtle fruitiness also makes it an excellent pairing for grilled vegetables, with the acidity helping to cut through the richness of the vegetables, while also complementing the natural sweetness.
But really, the list of foods that work well with pinot is longer than your arm: lighter styles can go well with seafood, cheeses, mushrooms and chicken, while richer, aged, more full-bodied styles will complement the likes of classic beef bourguignon or crispy-skinned roast duck. What's on the menu tonight? GREAT question!
Grilled rack of lamb and vegetables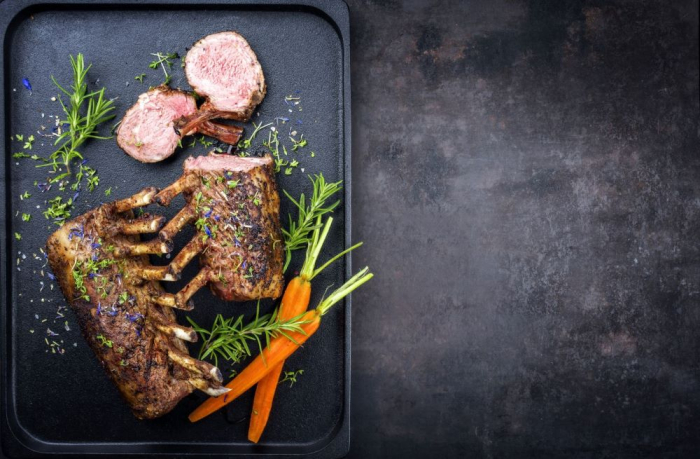 Tasty and elegant, this grilled rack of lamb and vegetable recipe goes beautifully with the juicy red fruit flavours intermingled with hints of dried herbs in the private-bin pinot noir.  It's simple and doesn't require many ingredients but will be sure to make you feel like a superstar in the kitchen. Make it for the mother-in-law, perhaps?! So, pour yourself a glass of Taylors Pass Pinot Noir and indulge in an idyllic evening at home.  
Ingredients
1 rack of lamb (with 8 chops intact)
2 tbsp olive oil
kosher salt and freshly ground black pepper
1 tbsp fresh rosemary, finely chopped (or 1 teaspoon dried)  
⅓ cup balsamic vinegar
1 garlic clove, chopped
2 tbsp honey
½ cup fresh parsley leaves
¾ cup vegetable oil
Instructions
Ask your butcher to "French" the lamb chop bone ends, or clean the bones yourself. Learn how here.
Brush the rack of lamb with olive oil, and sprinkle with kosher salt, ground pepper, and rosemary. In a food processor, combine the balsamic vinegar, garlic, honey, and parsley.
Pulse until blended. With the processor running, slowly drizzle in the vegetable oil until the mixture emulsifies.
Season with salt and pepper, to taste, and set aside, dividing the sauce equally into two small bowls. Lightly cover the exposed bones with tinfoil to prevent burning while grilling.
Cook, covered, for 10 to 12 minutes fat side up on grill, and turn with tongs, and continue cooking, covered, for another 10 to 12 minutes, or until meat registers 135 to 140 degrees for medium.
Remove the rack of lamb and tent with foil, and let the meat stand for 5 minutes before cutting into individual chops. Cut the rack of lamb into chops, and arrange decoratively on a platter. Spoon half of the reserved sauce over the top of the chops, plus serve extra sauce on the side for dipping.   
Minted halloumi and eggplant burgers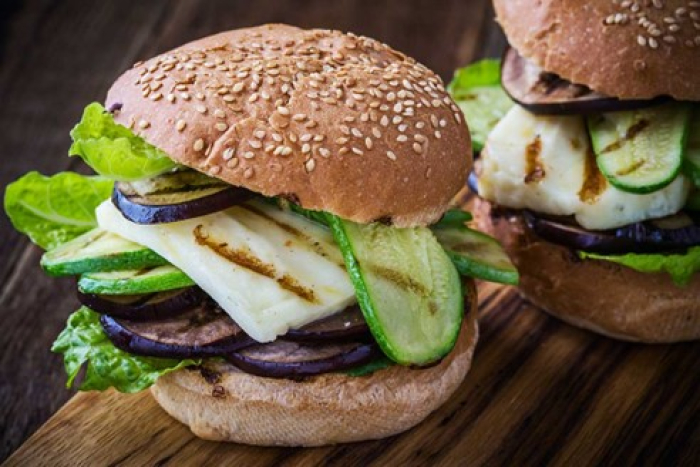 Delight your senses with minted halloumi and eggplant burgers, a surprising and enchanting combination that is sure to impress. Pair these bold flavours with the equally bold  Private Bin Marlborough Pinot Noir, a drop full of vibrant, fresh fruit flavours to balance the juicy savoury goodness in each bite.    
Ingredients
250g halloumi, sliced into 8
1 large eggplant, sliced into thick discs
2 red capsicums, deseeded and chopped
1 red chilli, deseeded and chopped
1 handful of mint, roughly chopped
1 tsp of fresh ginger, grated
1 tsp of cumin
Juice of 1 lemon
Olive oil, to drizzle
1 large ripe avocado, chopped
2 tbsp mayonnaise
Small handful fresh coriander
Juice 1 lime
4 burger buns, halved and toasted
Handful wild rocket or basil, to serve  
Instructions
Put the halloumi, eggplant and red peppers in a mixing bowl with the chilli, mint, ginger, cumin, lemon juice and a glug of oil.
Leave for 30 minutes to marinate. Mash the avocado with the mayonnaise, coriander and lime. Heat a barbecue or griddle pan, then cook the eggplant and red capsicum for 5 minutes on each side or until charred and tender.
Cook the halloumi for 1 minute on each side or until charred.
Spread the mashed avocado onto the toasted bun bases, and top with halloumi, eggplant and roasted red peppers. Scatter over the rocket or basil, add the bun tops and serve.  
Maple-roasted Brussels sprouts with bacon and toasted hazelnuts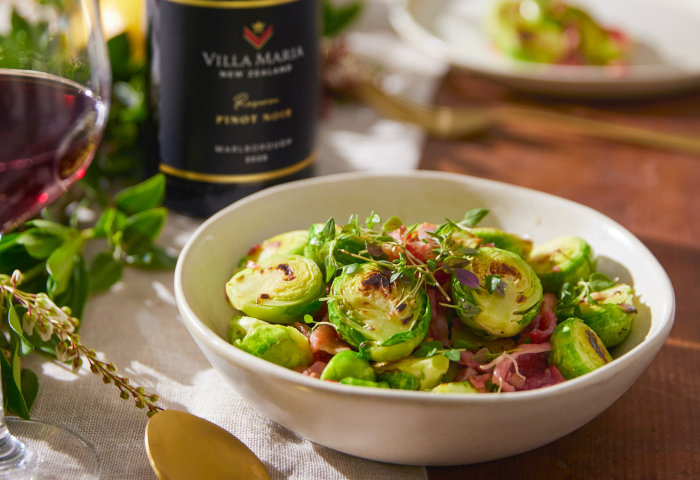 Crispy maple-roasted brussels sprouts made with bacon and deliciously toasted hazelnuts is a delightful side dish that is perfect for your holiday entertaining and a wonderful match to the juicy summer berry and toasty oak notes in a velvety Reserve Marlborough Pinot Noir. 
Ingredients
900g Brussels sprouts  
1 tsp of olive oil
Sea salt and freshly ground black pepper
3 slices thick-cut bacon, diced into 1cm cubes
¼ cup chopped hazelnuts
¼ cup pure maple syrup
Instructions
Preheat oven to 190°C. Wash brussels sprouts, cut off ends (root) and discard, then cut each sprout in half.
Place brussels sprouts in a large bowl, drizzle with oil, sprinkle with sea salt and freshly ground black pepper, and toss to coat evenly. Set aside.
Cook the bacon and hazelnuts in a large oven-proof pan over medium heat until the bacon starts to become crisp and hazelnuts become slightly toasted, about 4-5 minutes.
Transfer the bacon and hazelnuts to a medium bowl and set aside.
Keep heat on and add the brussels sprouts to the pan. Drizzle maple syrup all over sprouts and stir in pan to evenly distribute on the sprouts.
Cook brussels sprouts in pan for about 5 minutes or until they become slightly caramelised.
Put the pan in the oven and roast the brussels sprouts for about 30 minutes.
Add the bacon and hazelnuts to the pan with the sprouts and roast about 10 minutes longer or until the sprouts are caramelised and golden. Check seasoning and add more sea salt and ground black pepper to taste.