Capsule x booking.com
As the year comes to an end, it's time to start planning things to look forward to in 2021. What better way to kick off the New Year than by grabbing your friends for the ultimate girls' weekend away?!
Many Kiwis have spent extended time apart from friends and family this year. Research by Booking.com indicates that absence does indeed make the heart grow fonder with 53% of travellers planning to use future travel to reconnect with loved ones.
They also revealed that Covid-19 has inspired an increased demand for a quick weekend trip with 53% of New Zealanders wanting to take a shorter break to avoid the disappointment of travel disruptions.
As travelling overseas feels like a pipedream at the moment, there is no better time to explore our own backyard with your friends. Perhaps a relaxing weekend of vineyard hopping? A weekend experiencing the best nightlife the city has to offer? Or perhaps you'd rather spend time in nature in New Zealand's natural splendour?
Booking.com has put together a list of places to stay for the ultimate girls' weekend, so no matter what your crew is into – you'll find something to suit everyone sans international travel.
Waiheke
Located just a 40-minute ferry ride from Auckland City, Waiheke is known for its selection of top-tier vineyards, making it the perfect destination for a last-minute weekend of wine tastings. For the girls who don't consider themselves wine connoisseurs, don't worry – Waiheke has more to offer! You can spend the day relaxing at Onetangi or Palm Beach before heading to dinner at one of the many fabulous restaurant options, such as Tantalus Estate or Mudbrick.
Villa Blanc 2, located near Palm Beach, features two bedrooms with open plan living and a deck – perfect for enjoying sundowners. The villa is situated within a complex that includes an on-site restaurant and pool for those times when you just need to stay put.
Raglan
Learning a new skill is better with a buddy. So if you've always wanted to learn how to surf, why not make it a friendly affair and head to Raglan for the weekend with the girls? Raglan is known for its surfing hotspots and you'll find plenty of options for lessons at Ngarunui Beach. Get started in December for a whole summer of surfing fun.
The Journey's End property is located in Cox Bay and is less than a 15-minute drive to Ngarunui Bay and the iconic Manu Bay. The property features sea views, an outdoor entertaining area and a spa within walking distance of the town.
Marlborough Sounds
You might be interested in an active getaway with your adventurous friends. If that's the case, staying in Marlborough Sounds is a good fit for you. The beauty of the Marlborough Sounds is best experienced on the water. Luckily there are plenty of options for guided sea kayaking tours to check out the wildlife.
The Wilkes Way Villa is a property located in Picton, providing both sea and mountain views. The property is just a three-minute walk from Waikawa Marina and is a handy location to many local walking tracks.
Bay of Islands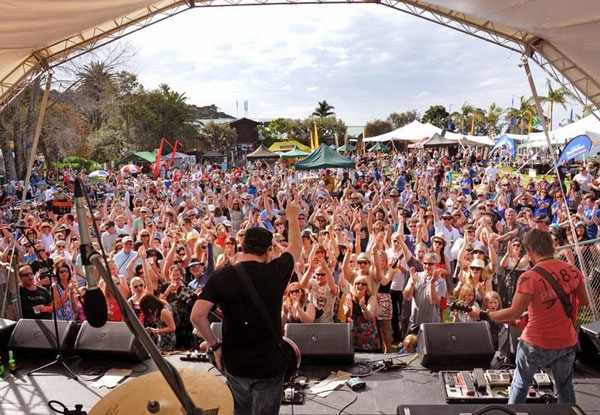 Why not get the girls together in January and keep the New Year's fun going? The Bay of Islands is a seriously beautiful part of New Zealand. While there is plenty of exploring to do out on the water, you don't want to miss the Bay of Islands Music Festival on Friday, 8th January 2021. Located at the stunning Kainui Vineyard & Brewery, the festival features a great mix of Kiwi artists including Benee, Tami Neilson and The Beths.
The Kingsgate Hotel Autolodge Paihia is centrally located on Paihia's waterfront, just a 100 metre walk from Paihia Wharf, and walking distance to the local shops and dining options. The property boasts sea views and facilities including a swimming pool, hot tub, fitness centre and games room.
Mount Cook
Considering there is no better time to explore your own backyard, you and your more adventurous girlfriends should pop on your hiking boots to explore one of New Zealand's most popular hikes, the Hooker Valley Track. The breathtaking walk is only five-kilometres long, making it a great option for all fitness levels.
The Hermitage Hotel is located in Mount Cook National Park, close to popular hiking tracks with spectacular views. The property has a range of dining and bar options that are ideal for a relaxed, yet fun evening of recuperation.